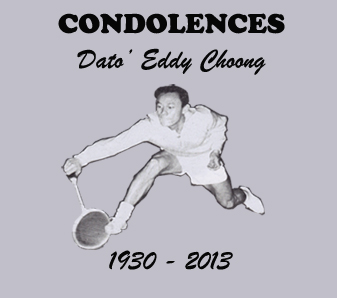 Badminton Legend Dato' Eddy Choong, a four-time All-England singles champion, passed away today(Monday). A family member said Eddy passed away at 3pm at Loy Guan Lye Hospital, where he had been warded for almost a week. Dato Eddy Choong is 82 years old. Dato Eddy Choong was the All-England champion in 1953, 1954, 1956 and 1957. He was a finalist in 1952 and 1957, and won the doubles titles with his brother David from 1951 to 1953.
He was also a member of the 1955 Malayan Thomas Cup team which retained the world team championship, and the 1958 team which surrendered the title to Indonesia. Dato'  Eddy Choong was inducted into the Badminton Hall of Fame in 1997.
Today was indeed a very sad day for badminton and LeePenang.com would like to wish Dato' Eddy Choong's family members the deepest condolence. We have indeed lost a great friend, advisor, mentor and badminton legend. For all badminton players and fans around the world, we would like to thank Dato' Eddy Choong for his selfless contribution to the sports of badminton.
Below is the video about Dato Eddy Choong:-